There comes a time in the life of every house when you need to refresh and invigorate the outside. You may not spend a lot of time looking at the outside of your house, but, keeping it looking good and your yard tidy, is important.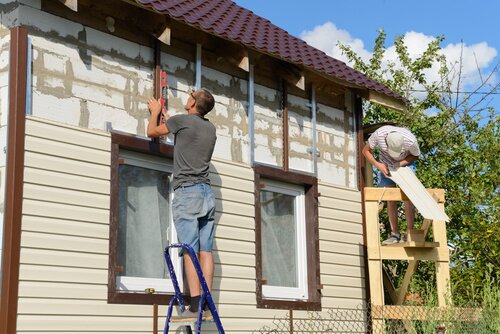 After all, this is the first part of your house that most people see, in order to maintain the value and appeal of your home you'll want to keep it looking as good as possible.
While you can paint the house, you'll find the best idea is to take a look at these options regarding cladding for houses. They won't just make your house look stunning, they'll are also low maintenance and will last for years.
As an added bonus, cladding, or siding, will add an extra layer of insulation to your home, helping you to stay warm in the winter and cool in the summer.
Vinyl Siding
Vinyl siding installation is one of the cheapest options but also one of the easiest to maintain. Vinyl siding can be purchased in a huge variety of styles and colors, making it a great choice for any style of home.
This may be one of the cheaper options but it is still good-looking, tough, and durable.
Brick Siding
This gives your house the look of a brick-built home and is a common choice in many suburbs. Brick itself is extremely durable and won't fade over time, (a common issue with vinyl cladding).
It's also very effective at protecting your home from the elements.
Stone Cladding
This gives your home the look of a natural stone house. Unfortunately, although this approach can look stunning, it is one of the more expensive options for cladding.
Again, the color won't fade and it's extremely durable, but, the choices of colors are limited. Most stone houses are finished in limestone, graphite, slate, or perhaps the natural stone of your area. It will look good but you can't make it a bright colored house.
Metal Cladding
Metal has become an extremely popular option for many houses. It's been used in industry for years but has only recently been adapted to the residential market.
You can choose the color and texture of the metal cladding, even opting for different types on different walls. However, this is a modern option and not the cheapest available, you should consider the finished look carefully before you commit.
Wood Siding
Wood has been a traditional material for homes for centuries, wood siding allows you to replicate this effect even if your home is not a traditional wood house.
You can purchase standard wood siding, engineered wood, or even wood that is environmentally friendly. Of course, the downside is that this type of cladding will need a little more maintenance, wood can rot and the coating will need to be renewed regularly.
Fiber-Cement Cladding
The final option on this list is fiber-cement which mimics the look of wood but is cheaper to purchase and install. It is water-resistant and insects won't attack it.
You can also have it in a variety of colors and styles. But, you should note that this is a heavy material, that makes it more expensive than vinyl, although cheaper than wood cladding.
Latest posts by Jamie Richardson
(see all)